Meet our New Intern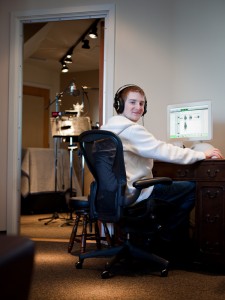 Babble-On Recording Studios welcomes Errol Bruckner to our Minneapolis recording studio fold. Erroll is a student in the audio production program at Hennepin Technical College in Eden Prairie, Minnesota. And, we can add to that he is well schooled in being unfailingly polite and a pleasure to be around.
Already proficient in a variety of recording studio tools and audio equipment (and about to be certified in ProTools 8.0.1), Errol has jumped right in helping us out on a large editing project – the results of which will help those who are in need of critical medical care in Haiti (more on that project, here on our Babble-Blog).
Coming from a very artistic and musically-inclined family, and after having studied psychology and graphic design at the University of Wisconsin-Stout, Errol decided it was time to pursue his passion and dedicate himself to audio. As part of his graduation requirements from Hennepin Tech, he is fulfilling an internship with us.
We are lucky to have found such a smart, enthusiastic, talented guy to help us out at Babble-On. Next time you're in enjoying a PBR and a Slim Jim, be sure to say "Hey" to Errol!