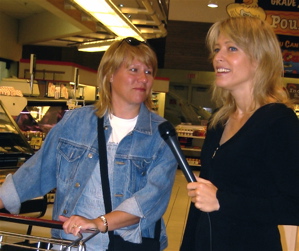 The meat department is a cold place. It's The Arctic – save for Porketta, and year-round light. Standing in it for 3 hours with a microphone and a notepad recording radio ads makes you wonder if Admiral Peary was way off his nut or if he just, y'know, "had a thing" for frozen foods.
For a few years now we've been working with OLSON, a Minneapolis Ad agency, on their Cub Foods radio ads. They deviate from "Man On The Street" audio production with their "Woman In The Aisle" twist. Which, we must admit, is nice. 'Cause as cold as the meat case gets – it sure beats recording outside during a Minnesota Winter.
Colleen Kruse, our "Woman in The Aisle", recording at Cub Foods
Many customers are sure they're on hidden camera and are insecure about how they look (who wouldn't on a Monday morning grocery run?). So we assure them it's just an audio recording, it'll only take a minute, and that everyone is beautiful on the radio.
(Don't laugh – it works.)
We never cease to be amazed by the equal number of people who'll barely look at us, and those who seem SO happy to prattle away about their lives and shopping habits. In fact, it's not that rare that an interviewee will find us again before they leave just to share "a few more thoughts" which we "need to know".
I will repeat that.
…"Need to know".
After 2 or 3 hours in store, we usually end up with an hour's worth of raw audio for a :60 spot. This includes recording the voice-over intro's and outro's of our facilitator/moderator/host and master cajoller, Colleen Kruse – a Twin Cities comedian and columnist for The Rake with whom we have the pleasure of working (and laughing) during these recording sessions.
Lately the crew has been account exec Eric Schafer, our own Greg Geitzenauer, Colleen Kruse and the occasional OLSON copywriter – Derek Bitter, Scott Dahl or Tom Randall. Eric mans the release signature clipboard and doles out the $5 gift cards to anyone willing to open their hearts, minds, mouths and shopping carts to us. Once we're done recording, we burn a CD of the session right there at the store from our compact flash recorder. It goes back to OLSON to be burrowed through for select comments good enough to make the final mix.
The next day Greg pulls those clips together for a quick once-over/beauty contest to see which ones should make the radio spot. From there, it's crafting the audio post production jigsaw puzzle into a radio ad that A) makes the product sound good and affordable, B) shows that Cub is the place to shop, and C) hopefully has a smile or two in it.
Here's a recent Cub Foods radio spot for California Red Seedless Grapes
Of course, some of the fun never makes into the final mix. These are just two gems from over the years.